Round the Corner
with :
Alice DE MONT, Florian DOMBOIS, Adrien G. LUCCA, Daniel RÖDIGER, Michaë l VAN DEN ABEELE
An exhibition curated by Sofie Van Loo & Emmanuel Lambion for MAISON GREGOIRE
With the support of De Vlaamse Gemeenschap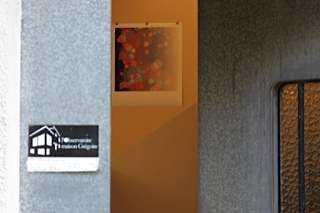 Bn PROJECTS & Maison Grégoire are very pleased to invite you to Round the Corner, an exhibition especially conceived for the architectural framework offered by maison Grégoire.
The catalyst, if not for the exhibition itself, but at least for the invitation and for the title of the project, brings us back to a visit we organized in situ with Florian Dombois, one of the artists we had invited and who did not know the place. Accidentally, one of the building contractors in charge of the renovation of this listed house by Henry Van De Velde was there. He probably heard us underlining the rotational circulation of the ground floor, whose plan revolves around the central staircase, as well as the typical details of the rounded corners of the ceiling mouldings, probably reminiscent of Van de Velde's art Nouveau début, but which also express metaphorically the conception of the house as living structure/body.
That is where our contractor played its part by mingling in the conversation with a : "And do you know how Van De Velde had his corners done ?†. We looked at him and he asked us to get a bottle from the cellar and there we go... The picture taken by Florian Dombois as we were checking the plausibility of his theory was to become the visual of the invitation, whereas the title of the project came to us quite naturally in English : Round the Corner.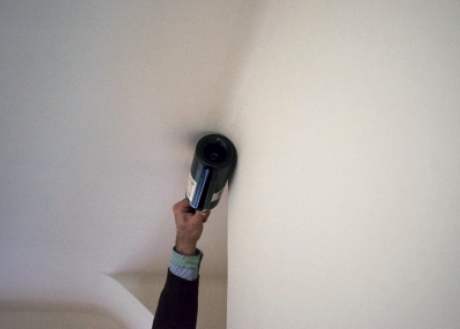 We appreciated the ambiguity and potential polysemy of the expression in English. Where round can be understood as a contraction of around, thus conveying ideas of proximity (locative or temporal), informality, familiarity but can also (as a verb opposed to the noun corner) suggest the idea of "rounding the edges†, thereby with the implicit idea of rules and norms softening under the irruption and influence of reality, of the accidental, or simply human element.
This aspect in particular matched perfectly the selection of artists whom Sofie and I had, both intuitively and deliberately, chosen to invite and confront to each other in the intimate and sober interior of Maison Grégoire.
A common feature in their practices reside in the rigorous character of their research, which leads them to investigate parallel fields of human knowledge, re-appropriate and deflect them, in order to create art works which implicitly convey in a self-reflexive way the question of the meaning of their research.
The round element is thus here to be understood, in a both literal and metaphoric way : For investigations and research seem to reach their blossoming point, when the edges are rounded off, that is when scientists, architects or artists fully integrate the singularity of their perspective or angle of approach.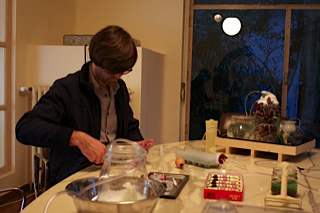 The interests, practices and works of the five artists we invited seem at first sight to be far apart from each other.
Nevertheless, one quickly feels that all their works, in a way or another, speak about an idea of circulation and porosity of energies and active principles, which are in turns analysed, dissected, curbed, contained, muffled or, conversely, put in relation with each other.
The algorithmic paintings of Adrien G. Lucca, painstakingly executed with incredible minuteness, shimmer and vibrate out of their thousands of constitutive Pixels.
Whether they are patiently stencilled with extremely thin brushes on broad sheets of paper, or, as in more recent series, directly printed on canvas from compositions drawn by the artist on a computer, using algorithms and colour hues devised by himself, his paintings take the form of some sorts of light "shapes†which, with the precision allowed by digital analysis of the constitutive elements of the prism, lend themselves to a diversity of playful interventions, with the artist changing with
extreme precision one of the parameters affecting our perception : origin of the light source, its intensity, the temperature.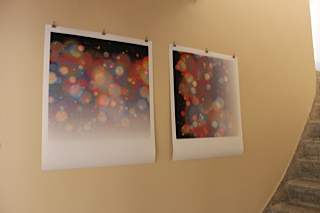 Florian Dombois has chosen a series of drawings of models of different wind tunnels. If the drawings enhance the sculptural potential of existing devices used in the so-called "speed industries†to measure the aerodynamic cx of cars, planes and weapons etc., Florian Dombois's ultimate objective would be to build such a tunnel in slow motion for the use of and at the scale of human beings. If this project directly relates to the physical and energetic circulation fostered by the plan of Maison Grégoire, as we discussed it initially, a further echo of it is to be found in the discretely integrated video, which visualizes and brings inside the house the feeling of a light breeze filmed in the garden.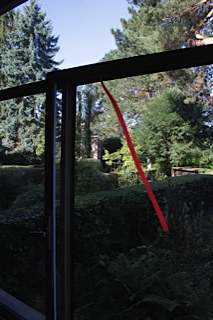 In front of Florian Dombois's drawings, we find Stilleven met dempers en Henry's fles, a work, all in restrained energy, by Alice de Mont. The objects which are placed next to her tribute to Henry's (Van de Velde) bottle - duly angular and facetted of course and with yellow hues as a tribute to the recently restored walls of Maison Grégoire - are actually mutes.
Alongside her other sculptures present in the show, Object #1 (2010) presented in the entrance hall & Object #7 (2014), conceived as a container meant to display sculptural memories, this piece reveals this inner tension which is typical of her work. Whether in her videos or in her sculptural installations, De Mont shows a clear fascination for the vibration, circulation and transformation of forms, as well as towards synaesthesia (in particular between music and visual arts).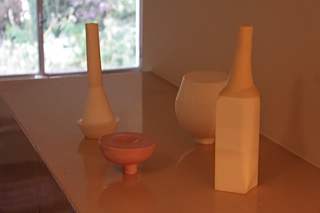 Outside, right next to the entrance door, Fotoblok Object #1, acts as a sort of tribute and laser-engraved epitaph to a vanished sculpture, or, more precisely, to the original form of a sculpture (Object #1) which has changed over time. Her installation at Maison Grégoire will also be the occasion for her to start a new video, which will namely play with alternative settings of these sculptures.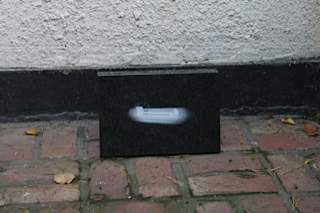 Daniel Rödiger's Schaarbeek Arboretum, an installation which he calls a "poetic garden piece†, illustrates his ideas on the growth of forms and occupies the table of the front dining room. At the very centre of this expansive installation, acting as a sort of transmission and intensification device, an old amp connects the different "active†elements of the installation : a plastic conservatory giving shelter to books and a box of Mon Chéri chocolates, jars filled i.a. with bee waxes, green plants, etc.
With these seemingly casual encounters between organic and inanimate objects, characteristic of his works, it is as if Rödiger aimed at suggesting the interdependence and the equivalence between organic and inorganic elements, between energy flows and currents of ideas, between humanity and other forms of life, in particular microscopic forms of life, which are all central concerns in Rödiger's investigations.
To Rödiger, the human being is not only a creature active in a given biotope or environment which influences him and which he in turns contributes to refashion, but he is also a sort of "biotope by himself†: as sciences teach us, our bodies are hosts to billions of living microscopic forms of life , virus, bacteria, which are the living memory of our own evolution and keep thus also influencing us directly.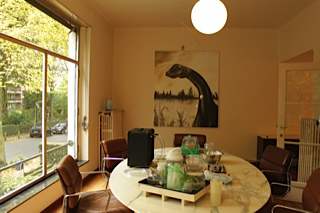 Opening on 19 October 2014, 3-6 p.m.
Exhibition open on Saturdays, 2-6 p.m. and by appointment
From 25/10/2014 until 29/11/2014
Maison Grégoire
292 Dieweg
B 1180 Bruxelles
www.maisongregoire.be